Explore America's Best Fall Foliage Drives
Explore America's Best Fall Foliage Drives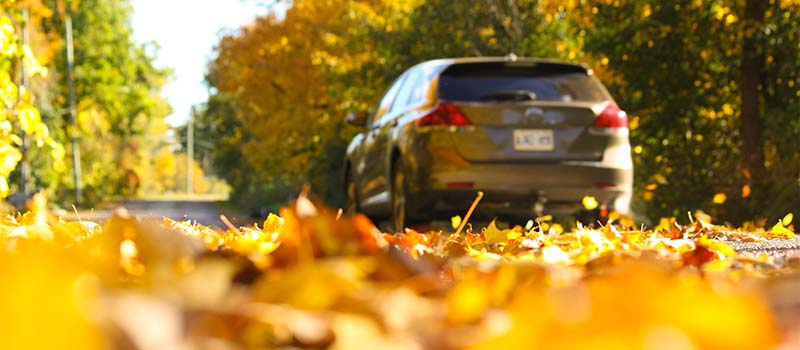 Explore America's Best Fall Foliage Drives
Where Are The Best Places To View Fall Foliage?
Amicalola Falls State Park, Georgia
Located at the southernmost point of the Appalachian Trail, Amicalola Falls State Park is a local favorite for hiking and birdwatching. If you're a hiker, consider taking the Springer Mountain Trailhead to the Amicalola Falls overlook for some beautiful scenery. If you get tired, you can always stay at the cozy lodge located at the top of the mountain! To catch the peak of fall colors, you should visit in late October, but plan your trip in advance, because these gorgeous views can get crowded during peak season.
Bishop Creek Canyon, California
Although California is generally known for its sunshine and surfing, there are some truly stunning fall colors to see in Bishop Creek Canyon, located in the eastern Sierra region. Covering an area of about 30 square miles, there are plenty of opportunities to explore the surrounding lakes and hiking trails, with vary degrees of difficulty suitable for both experienced hikers and beginners. If you're not feeling as adventurous, there are many scenic views visible on the auto tour loops that pass through the area. To experience some of the most spectacular fall colors in the entire state, you'll want to visit in late September to early October.
Blue Ridge Parkway, North Carolina
Across 469 miles throughout North Carolina and Virginia, the Blue Ridge Parkway offers some of the most beautiful panoramic views, stretching from the Blue Ridge Mountains to Rockfish Gap. There are a number of family-friendly stops, including the Folk Art Centre, the Museum of North Carolina Minerals and the Humpback Rocks hiking trails. If you're looking for peak fall foliage viewing, aim for driving through between early October and the first week of November.
Capital-Saratoga Region, New York
With lots of scenic overlooks, like those found at the John Boyd Thacher State Park, you'll have plenty of opportunities to enjoy the brightest fall colors of upstate New York. Visitors to the area will be able to see stunning views of the Hudson-Mohawk lowlands, including the southern Adirondack Mountains. If you're looking to stay overnight, you might want to consider camping at one of the 140+ camp sites available at the state park. And for you history buffs, consider checking out the Saratoga battlefield, a Revolutionary War battlefield located in Stillwater, NY. To see the most beautiful leaf colors, plan to visit in mid-October.
Columbia River Highway, Oregon
Traversing the cliffs of Oregon for 75 miles of America's oldest scenic highway, this drive starts just east of Portland. This section of highway is also home to several spectacular waterfalls, including Multnomah Falls and Horsetail Fall. If you're interested in historical landmarks, you'll want to check out the Columbia Gorge Discover Center and Wasco County Historical Museum, where you'll learn about the early inhabitants of the Columbia River Gorge area. To view the most beautiful fall foliage along the highway, plan your travel in mid-October, when the cottonwood, ash and maple trees begin to change colors.
Great Smoky Mountains National Park, Tennessee
Stretching from Tennessee into North Carolina, the Great Smoky Mountains National Park is a popular destination, averaging over 11 million visitors each year. For those interested in hiking, the park offers over 850 miles of hiking trails. There are also a number of self-guided vehicle and bike tours available, which include views of numerous historical sites. Providing a glimpse into the past, these sites include barns, churches and log cabins, which give you a chance to learn more about the old-time way of life in southern Appalachia. Depending on what part of the park you're visiting and the elevation, you'll see peak foliage views between early October and November.
Oconee Station State Historic Site, South Carolina
Oconee Station was a military compound in the 1700s, but today, it's known for fishing, hiking and beautiful foliage. Sumter National Forest is accessible via hiking trails, and there are plenty of historic sites to visit along the way. The Station Falls Cove waterfall is located at the end of the nature trail, and is well worth the hike. To see the leaves at their brightest, consider planning a trip in late October or early November. Spring is also a great time to visit, as the Oconee area is known for its variety of gorgeous wildflowers!
Shenandoah National Park, Virginia
Running along the Blue Ridge Mountains in Virginia, the Shenandoah National Park offers more than 500 miles of hiking trails, and attracts thousands of hikers each year. If you're a nature lover, you'll see plenty of songbirds, deer and even black bears! If you're not quite that adventurous, you can still enjoy lots of scenic views by driving along Skyline Drive, which is 105 miles long and features 75 scenic overlooks, including Range View, Hazel Mountain, Stony Man and The Point. The lush fall foliage and wide variety of colors attracts large crowds during the peak season, which is in mid-October, so you'll want to plan your trip accordingly to avoid getting stuck in traffic!
Stay Safe With NatGen, No Matter What Your Destination May Be
If you're planning on hitting the road to check out one of these fun fall destinations, be sure that you have the right insurance coverage to keep you and your loved ones safe! NatGen is here to help you get the coverage you need. Feeling a little uncertain about your current coverage? Reach out to your local agent! They're more than happy to answer any questions you may have, and will help you get moving to your next destination safely!